QuikPush™ Small Distribution Box
This QuikPush distribution box (QP-SDB) from PPC is a stylish, compact fiber distribution point designed specifically for pre-terminated FTTH applications. Suitable for indoor use the distribution box can accommodate up to 12 QuikPush drop cables for onward routing within Multi-Dwelling Units.
Supporting fully pre-terminated installations, the distribution box can facilitate point-to-point (12 fibers) and passive network (1:8) architecture within MDUs.
The QP-SDB is designed specifically to overcome the slack storage challenge of pre-terminated FTTH applications with capacity for up to 25 meters of slack fiber cable.
Suitable for indoor use, the QP-SDB facilitates the use of the pre-terminated PPC QuikPush Drop cables within customer dwellings, between the network floor distribution point and the end user's Optical Network Terminal.
Advantages: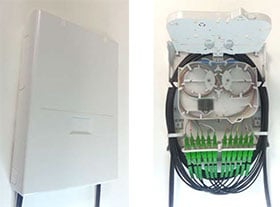 Allows for 100% splice-less FTTH installations
IP54 protection from dust and water
Can accommodate 12 x SC or LC duplex adaptors
Capacity for 12 drop cables per closure
Lockable front cover for total fiber security
Compact design with hinged splice trays
Storage for up to 25m (82 feet) of Ø3mm Miniflex cable
Supplied with wall fixings, cable ties and connector adapters
Applications
Fiber To The Home
Multi-Dwelling Units
Premise installations
Telecommunications
Compatibility List:
All PPC and industry standard cable
QuikPush™ cable connector (SC & LC)
PPC Microduct